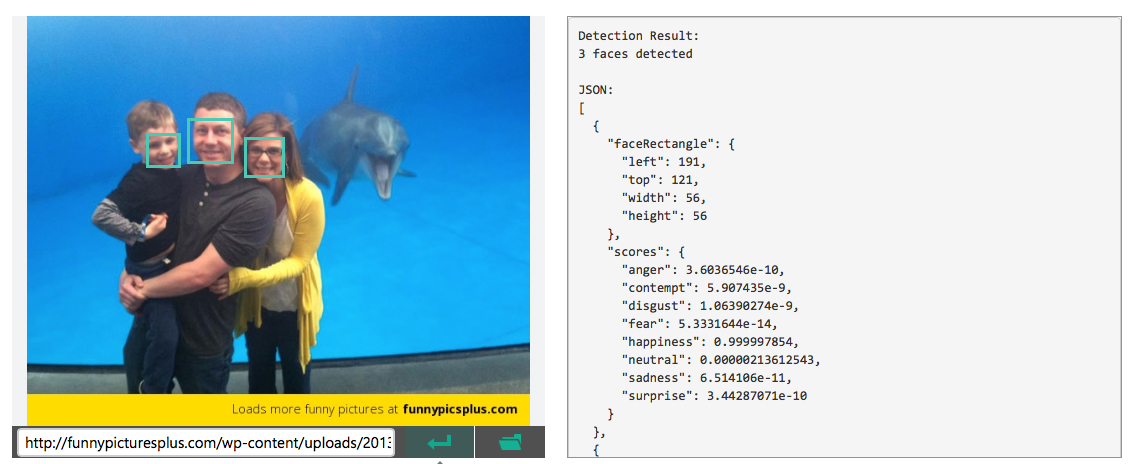 Microsoft Cognitive Services (sounds like something from a Phillip K. Dick novel) have opened up APIs, which you can call on (req. subscription), to outsource forms of machine learning. So, if you want to identify faces in pictures or videos you can call on the "Face API", for example. Obviously, this is all old news… but, it's sort of interesting to maybe think about how this foregrounds the homogenisation of process – the apparent 'power' of these particular programmes (accessed via their APIs) may be their widespread use.
This might be of further interest when we consider things like the "Emotion API" through which (in line with many other forms of programmatic measure of the display or representation of 'emotion' or 'sentiment') the programme scores a facial expression along several measures", listed in the free example as: "anger", "contempt", "disgust"," fear, "happiness", "neutral", "sadness", "surprise". For each image you'll get a table of scores for each recognised face. Have a play – its beguiling, but of course then perhaps prompts the sorts of questions lots of people have been asking about how 'affect' and emotions can get codified (e.g. Massumi) and the politics and ethics of the 'algorithms' and such like that do these things (e.g. Beer).
I am probably late to all of this and seeing significance here because it's relatively novel to me (not the tech itself but the 'easy-to-use' API structure), nevertheless it seems interesting, to me at least, that these forms of machine learning are being produced as mundane through being made abundant, as apparently straightforward tools. Maybe what I'm picking up on is that these APIs, the programmes they grant access to, are relatively transparent, whereas much of what various 'algorithm studies' folk look at is opaque.  Microsoft's Cognitive Services make mundane what, to some, are very political technologies.
(Visited 75 times, 1 visits today)