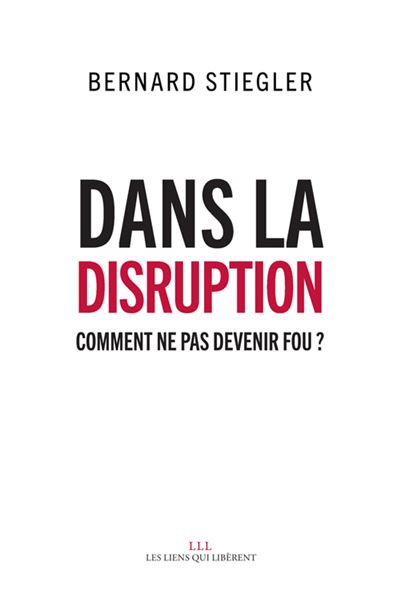 Yet another new book by Bernard Stiegler has been published in French recently: Dans la Disruption – Comment ne pas devenir fou?
One might translate this as: "In Disruption – How do we not go mad?"
Here's the front and back covers, and I offer a quick translation of the back cover blurb…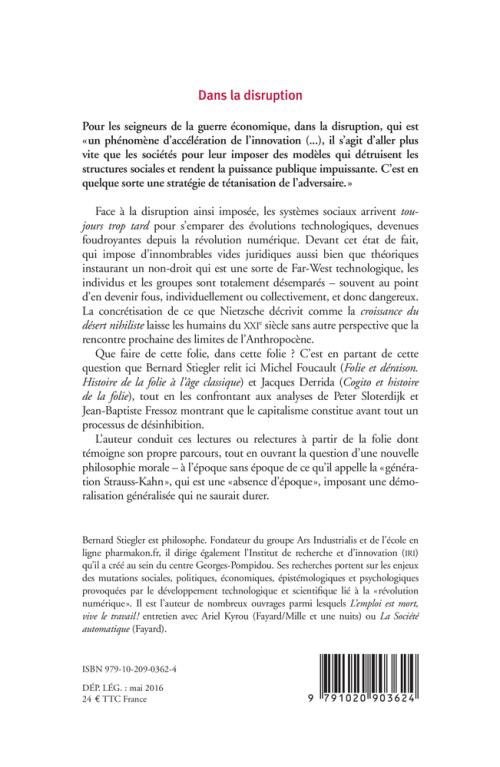 For the lords of economic war disruption is "a phenomenon of the acceleration of innovation (…) which is going to happen more quickly in societies that allow them to impose programmes that destroy social structures and render public power impotent. This is a kind of strategy of tetanising one's adversary".
Facing the disruption thus imposed, social systems always arrive too late to seize technological evolution, now thundering ahead in the digital revolution. Faced with this state of affairs, which requires countless legal and theoretical loopholes establishing a lawlessness which is a kind of techonlogical Wild-West, individuals and groups are totally lost, often to the point of going mad, individually or collectively, and therefore becoming dangerous. The concretisation of what Nietzsche described as a growing desert of nihilism leaves 21st Century humans with no other perspective than facing the next of the limits of the Anthropocene.
What can be done with such madness, in such madness? It is by starting with this question, that Bernard Stiegler rereads Michel Foucault (Madness and civilisation: A history of insanity in the Age of Reason) and Jacques Derrida (Cogito and the History of Madness) while confronting Peter Sloterdijk and Jean-Baptise Fressoz's analyses of capitalism as above all a process of disinhibition.
The author conducts these readings or re-readings starting from the forms of madness which reflects his own course, opening out the question of a new moral philosophy – in an age without age [l'époque sans époque], which he calls the "Strauss-Kahn generation", that is a "lack of age" ["absence d'époque"], which imposes a general demoralisation that cannot last.
(Visited 1,002 times, 1 visits today)