The launch of the report on the review into the role of metrics in HE over on the Gaurdian,..
Across research, the metric tide is rising. An independent report published today argues that we have the opportunity to influence how it washes through higher education and research.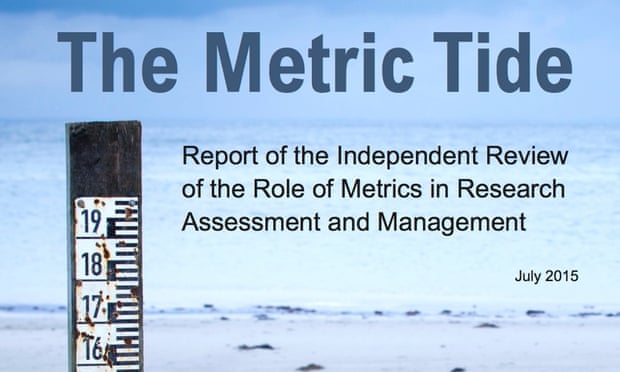 Yesterday's Budget brought good news for those vice-chancellors who have been lobbying to raise student tuition fees above the current £9,000 annual cap. But it came with a sting in the tail: George Osborne said that fees could rise in line with inflation only for those universities "that demonstrate excellence in teaching". This will be assessed through a new Teaching Excellence Framework, or TEF, to be introduced alongside the Research Excellence Framework (REF), which is used to allocate around £1.6 billion each year on the research side of the system.
Good quote further down:
Metrics should support, not supplant, expert judgement. In our consultation with the research community, we found that peer review, despite its flaws and limitations, continues to command widespread support. We all know that peer review isn't perfect, but it is still the least worst form of academic governance we have, and should remain the primary basis for assessing research papers, proposals and individuals, and for assessment exercises like the REF. At the same time, carefully selected and applied quantitative indicators can be a useful complement to other forms of evaluation and decision-making. A mature research system needs a variable geometry of expert judgement, quantitative and qualitative indicators. Academic quality is highly context-specific, and it is sensible to think in terms of research qualities, rather than striving for a single definition or measure of quality.
(Visited 69 times, 1 visits today)