This looks good! Via Scott Rodgers.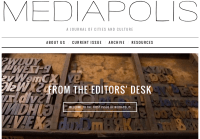 It's with great pleasure that I can announce the publication of the first issue of Mediapolis: A Journal of Cities and Culture. I'm fortunate enough to be on the Editorial Board of this new journal and – although my involvement in this first issue was very minor indeed – I look forward to helping bring some interesting and engaging future issues to fruition focused on the relationship of media and cities.
I've posted the formal press release text below, which provides some more detail on the journal's aims and scope, and importantly, its distinctive format. The journal is explicitly aimed at 'small-gauge' scholarship, meaning that while it may occasionally include research articles, it aspires to be a platform for alternative forms of scholarship, such as podcasts, video, interactive content, roundtable discussions, trend pieces and reviews.
One of my responsibilities as an Editorial Board member is to help curate content for future issues of the journal, and to that end I'd welcome anyone getting in touch with ideas, inquiries and formal expressions of interest. And of course, by all means, please do circulate details about this journal to anyone you think would be interested.
Press Release Text:
We're proud to announce the publication of the first issue of Mediapolis: A Journal of Cities and Culture. Taking inspiration from our historical moment, which is defined by both the increasingly constitutive role media plays in our everyday life and by the force the urban and urbanization exert on those lives, Mediapolis places urban and media studies in conversation with one another. In doing so, we aspire to create a venue for discussion that operates outside the territory of the traditional academic journal, complementing existing publications by producing open-access scholarship whose approach and topics are equally accessible and of interest to a wide audience. Mediapolis will take full advantage of the flexibility afforded by our format to feature podcasts, video, and interactive content alongside roundtable discussions, trend pieces, reviews and peer-reviewed research articles.

We are excited by the possibilities of Mediapolis, and look forward to continuing conversations begun at conferences, gathering a community for teaching resources around the urban and media, and providing a home for innovative "small-gauge" scholarship. Above all, we believe Mediapolis affords the opportunity to foster a broader dialogue around media and the city with colleagues from cinema and media studies, art history, communication, urban studies, and other fields within and outside the academy. These goals are reflected in our editorial and advisory boards, as well as in the content of our first issue, which is available at mediapolisjournal.com. If you're interested in contributing to the journal in any way, archiving your course materials there, or serving as a reader for future submissions, please email Brendan Kredell (Oakland University) or Erica Stein (Marymount Manhattan College), at editor@mediapolisjournal.com.
(Visited 69 times, 1 visits today)